SASO / SABER (SALEEM PROGRAM - KSA)
The current global business environment is motivating organizations to consider the full social and ethical impacts of their corporate activities and policies.
What is SASO?
SASO is Saudi Arabian Conformity Assessment Body who is responsible to look after Saudi Product Safety Program (SALEEM).
What is SABER?
SABER is a Web- portal launched by SASO for implementation of SALEEM Program and to issue PCoC and SCoC.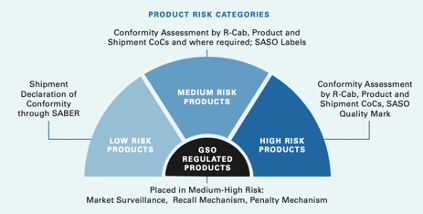 Why is SASO|SABER Certificate Required?
Build consumer confidence in products sold in KSA Market
Guarantee the fare trade between buyer & seller
To clear shipments at border to enter in KSA, without SASO|SABER certificate your products will be banned on KSA entry points.

Why SASO|SABER with Qdot?

Quick Response
Short Lead Time
One window operation
Consultancy expertise in the area.
The benefit of established working relationship with Notifieing.
PCoC | SCoC
It ensures that all products entering into KSA are in conformity with national product safety and quality requirements. . These certificates are required at customs to prove product conformity and to clear the shipment from the port.
Certificate Validity
PCoC: 1 Year
SCoC: Every Shipment
Timeline:
IECEE
Mandatory Certification Scheme in KSA regulating products according to technical regulations or standards of the International Electrotechnical Commission (IEC) System of Conformity Assessment Schemes for Electrotechnical Equipment and Components (IECEE).
Certificate Validity
Timeline:
OBD
KSA have adopted laws that mandate disposable polyolefin plastics to be oxo-biodegradable.
Products categories for OBD certificate are:
Garbage Bags
Cling Film
Flower Wrap
Certificate Validity
Timeline:
SASO|SABER
ISO 17025 TESTING
Product testing is one of the requirements for the SASO|SABER Certificate. Testing is required to be done from ISO 17025 accredited Laboratory.
Qdot have established working relationship with ISO 17025 accredited labs and can assist our clients to get testing for SASO|SABER on fast track with one window operation
Product
Barcodes
Product barcoding is a requirement sometime to get the product certified from SASO|SABER.
If our client do not have Barcodes already, we can assist them to get Barcodes registered for their products.